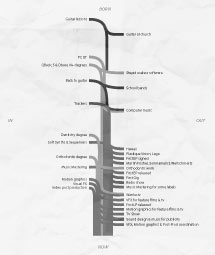 Born in Bahía Blanca in the late seventies, Leandro started fiddling with guitars and music production software at a pretty early age. Exposed to electronic music by means of Daft Punk and the Chemical Brothers, by the end of the 90s he started making music in a serious way and founded a tech house collaboration with some friends called Hawaii, all the while producing a heavier, darker sound under the name Plastique Vision, releasing a bunch of 12" that ended up being remixed by talents like G-Pal and included in compilations such as Hernan Cattaneo's Renaissance Master Series.
By 2003, Leandro had dived into a deep minimal soundscape and began producing under the monickers Martin Fissher (solo) and Welstchmerz (with Julie Amadeo's vocals). The collaboration with Julie led to a couple of downtempo releases under the name `The somnambulist´, although it was as Lega that he explored the minimal techno sound to its maximum potential, releasing many singles, EPs, and remixes for labels such as Immigrant, Intrinsic Design and Iron Box Music, among others.
2005 onwards, Leandro became increasingly interested in an experimental, IDM, popish sound and started releasing new material which is less dance floor oriented.